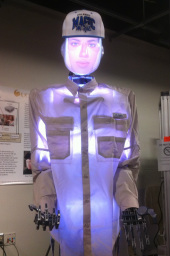 Virtual Human Surrogates

Investigated control algorithms for remote 'inhabiting' of virtual humans, also referred to as 'avatars'. Their manifestations range from being purely virtual to fully robotic in nature; Our research involved studying the complexity of human interaction with these surrogates and crosses multi-disciplinary boundaries including education, psychology, computer science, and engineering.



---
Inhabiting the Robothespian

These are videos of the Robothespian RT-3 humanoid robot being controlled in real-time using our AMITIES paradigm. The paradigm allows inhabiting by sending low-latency control commands to the hybrid-actuation mechanism of the robot. This involves control of electric motors and pneumatic (Festo's Fluidic Air Muscles) actuation coupled with passive spring-elements to achieve smooth human-like motion.
---
Physical Virtual Avatars


The image on the left shows one of our virtual human surrogates. The prototype supports capturing and rendering of real-time facial imagery of a human (top right), as well as virtual 3D characters (bottom right). The prototype also supports mobility, allowing a remotely located inhabitor to move around in the avatar's environment (via the surrogate) and interact with its inhabitants. Robotics-related research involved developing control strategies to accurately and reliably capture and transmit an inhabitor's intent (motion) to the surrogate that is located remotely.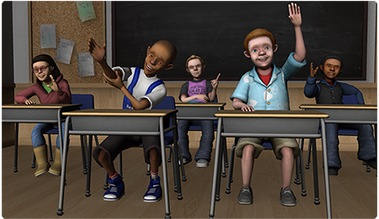 TLE TeachLivE™
The
TLE TeachLivE™ Lab
is a mixed-reality teaching environment supporting teacher practice in pedagogy and content. The application is built on our proprietary patented system AMITIES and has recently been awarded the National Training and Simulation Association's Award for Training in 2013, and also the Governor's Award for Modeling and Simulation in 2013. More information about the project can be found on its dedicated website and links below:
Check us out at http://ucf.edu/teachlive
Follow us on our blog at http://teachlive.blog.com
Follow us on twitter at @teachlive #teachliveucf
---