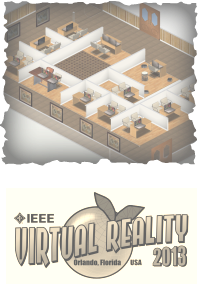 Synergistic Activities

1. Served as one of the Research Demos Chair at the IEEE Virtual Reality Conference 2013, the premier international conference and exhibition on virtual reality, Orlando, FL. Member of Posters and Demos Award Committees at IEEE VR 2013. Program Committee Member, ICINCO 2014.

2. Serve as an investigator on several internally and externally funded grants at the Institute for Simulation and Training, UCF - these include grants from the NSF and ONR. Also serve on Ph.D Committees of students at UCF.

3. Reviewer for several journals and conferences including Robotica, Advanced Robotics, Virtual Reality Journal, the International Conference on Intelligent Robots and Systems (IROS), 2010, International Conference on Advances in Computer Entertainment Technology (ACE), 2011, IEEE International Symposium on Mixed and Augmented Reality (ISMAR), 2011, the IEEE Aerospace and Electronic Systems Magazine Online Journal, and the Entertainment Computing Journal. Member, IEEE Robotics and Automation Society.

4. Passed the February 2010 National Research Council's Research Associateship Program review for a proposal titled Navigation and control of spacecraft with on-board manipulators grasping an object on-orbit, with eligibility for an award.

5. Member of Team Tumbleweed, which was one of the six-finalists at the MOD Grand Challenge. Responsible for the design and development of the autonomous ground vehicle's navigation strategies, obstacle avoidance algorithms and simulation test-bed. Involved in some major systems development projects during post-doctoral research. The first of these included the development of a persistent wide area surveillance platform, which was a project funded by HARRIS Corporation. The second was a system for automated visual inspection of railroad tracks for the Florida Department of Transport.

---