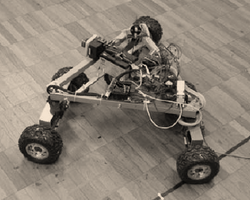 UK MOD Grand Challenge (Collaborative Research with Rob Richardson, University of Leeds, UK)

A new locomotion method for unmanned (autonomous) ground vehicles (UGV) is proposed based around six independently driven wheels mounted on three separate modules. Each module is attached to the overall robot via a pivot point and capable of independently controlling its orientation and velocity. This configuration allows the UGV to perform maneuvers conventional vehicles cannot perform, and in particular to control the body orientation separately from the movement direction.

---
"Weed" Deployment VideosLeft:

Deployment of the robot during a night test mission. The robot is gathering imagery when seen swiveling on the spot at a way-point.

Right:

The press-demonstration of the robot maneuvering capability.

Principal Investigator:

Dr. R C Richardson, University of Leeds, UK.
---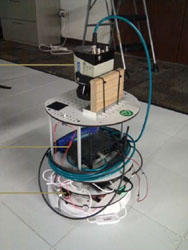 Decoupled Robot Control in Remote Environments

Remote operation of robots in distant environments presents a significant challenge for direct control due to inherent issues with latency and available bandwidth. Purely autonomous behaviors in such environments come with the associated risks of failure. This research focuses on the foundations of a control paradigm that uses a simulated virtual environment to decouple the operator from the physical robot, thus circumventing latency problems. Robot modeling is achieved via Kalman filtering techniques and decoupling occurs via a master-slave architecture with a modular planning and execution module.

---
Decoupled Control Experimental Demonstration

The simulated robot acts as a master and is controlled by the clients directly, while the real robot behaves as a slave, but with sufficient autonomy to execute high level behaviors. This video shows the simulated and real robots working in tandem and executing the same movements when governed by this master-slave architecture.