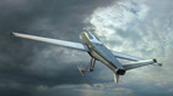 Perched-Landing for Fixed Wing Unmanned Air Vehicles
The ability of UAVs to perform a "perch and stare" manoeuvre could significantly enhance their effectiveness during surveillance and reconnaissance missions. This research investigates the concept of a biologically inspired leg-based landing system, drawing inspiration from bird legs. The research focuses on the use of adaptive self-tuning controllers to dissipate energy during landing.


---
Perch and Stare Video Render

This is a video render of the proposed 'Perch and Stare' manoeuvre for fixed-wing Unmanned Air Vehicles. The maneouvre is highly complex, requiring multiple sensors to identify a target landing zone, minimize impact on contact, absorb energy during the landing and achieve static stability after the maneouvre is completed.
---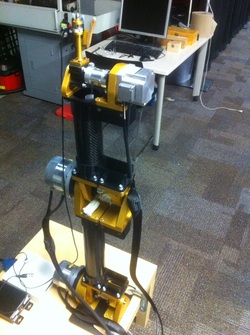 Dynamic Mass Capture and Robotic Manipulation

Stiffness Control: A challenge with hybrid force and position control is to identify where the force and position planes should be implemented; in the capture situation these are particularly poorly defined. A new stiffness (impedance) control method is proposed for robotic systems to capture free moving objects with minimum jerk. An adaptive controller is designed to actively interact with the object to estimate the kinetic energy during the capture and scale the amount of force being applied accordingly.

Velocity Matching: Methods for capturing a dynamic object in the presence of noise and uncertainty with respect to its estimated position and velocity are being investigated. The approach is based on using polynomials that enable real-time re-planning of the robot trajectory whenever new estimates of the object's parameters are available. Continuity in position, velocity, and acceleration is preserved independently of the planning update rate and the resulting trajectories are characterized by low jerk.

Compliance Estimation: Related research focuses on methods for estimating compliance properties of objects in the workspace of remotely located robotic manipulators. An architecture that supports decoupled remote teleoperation is developed, and used to control the manipulator during recovery of an object's compliance parameters. These parameters are based on the Kelvin-Voigt contact model and estimated in simulation as well as experimentally using offline and online estimation techniques.

---
Velocity Matching Experimental Demonstration


The video shows two independent runs in which a free-moving cart approaches the end effector of a linear actuator. The second run includes undulations that alter the cart's velocity and add noise to the sensor readings. Real-time polynomial tuning is used to match the velocity of the cart to minimize impact on contact with the end effector.